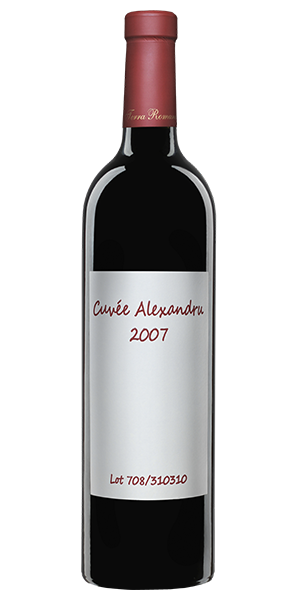 Grape harvest and winemaking:
This Cuvée is a unique wine, born from the passion and curiosity of two wine-lovers: Guy de POIX and his disciple, our oenologist from the very beginning, Aurel Rotărescu. Cuvée Alexandru proves once again Romania's huge wine-making potential. It comes from a very old plot (more than 40 years old) of Cabernet Sauvignon, which is now replanted to a young Cabernet Sauvignon (2009), that we hope will be a worthy successor to Alexandru. With a complex nose of smoky plums, combined with black pepper and laurel, its elegance invites you to a journey of ther senses that you will not easily forget.
Wine tasting:
Vintage: 2007
Grapes: Cabernet Sauvignon
Origin: Dealu Mare, D.O.C.
Aroma: sundried plums, leather, cinnamon, cranberries
Taste: blueberries, cranberries, bitter cherries, sweet tannins, vanilla
Given the complexity of its flavors, with accents of dried plums and cranberries, along with its strong structure, this cuvee will develop into an absolutely extraordinary wine.
The estimated time for bottle ageing is at least 15 years.