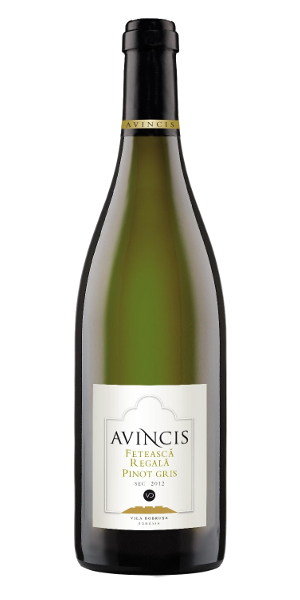 Grape harvest and winemaking:
Fetească Regală Pinot Gris
Plot size 2.5 Hectares 2 Hectares
Age of Vines ~30 years 4 years
Position North-south rows on a gentle slope East-west rows on a plateau
The harvest is carried out by hand, into crates holding just 18 kg, with the aim of minimising damage to the grapes. Our pickers select only the best, healthiest grapes.
We check the grapes regularly for ripeness and flavour development to ensure they are picked at the right moment.
Then grapes are sorted a second time on a conveyor belt to ensure only healthy, ripe fruit is used.
The grapes are de-stemmed, pressed very gently in an enclosed pneumatic press, and then undergo minimal skin-contact.
30% Fetească Regală: the majority of which was fermented and aged for 9 months in French oak barrels with regular lees stirring.
70% Pinot Gris: of which 28% was fermented and aged for 6 months in French oak barrels. The remainder was fermented in stainless steel.
Wine tasting:
A bright golden hued wine.
The wine shows a rich and complex bouquet, with notes of white flowers with dried apricot and a hint of vanilla.
On the palate, this wine is generous, mouth filling and well-structured, with flavours of peach and spiced pear.
How to enjoy:
We suggest you serve it lightly chilled at around 9 °C.
It would be particularly good with chicken and wild mushrooms or with truffle risotto.
It goes very well with grilled salmon and all types of poultry.
You could even match it to desserts with apple or pear.
Alcohol: 14%
Style: Dry