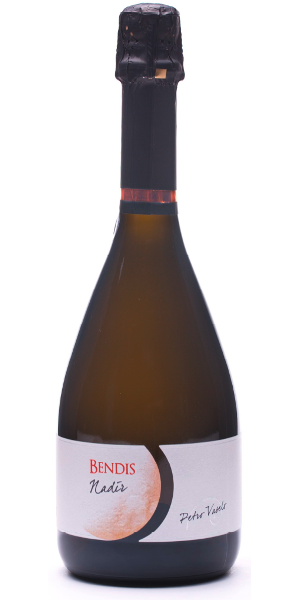 Grape harvest and winemaking:
This Pinot Noir vineyard used to produce the Bendis Nadir wine is located on a hill with western exposure, at al altitude of 142-171 m above sea level. The climate is continental, with temperatures as low as -15 degrees C in the winter and highs of 40 degrees C in the summer, and an annual rainfall between 600 and 800 mm. The soil is mildly acid, clayey-marshy.
Coordinates: 45°49'55"N; 21°35'06"E
Altitude: 142 - 171 m over sea level
Climate: Continental (-15°C in winter; +40°C in summer)
Soil: Weakly acid, clayey-marshy soil
Rainfall: 600 – 800 mm each year
VINEYARDS:
Varieties: Pinot Noir
Treatment of soils: summer works and fertilization with green fertilizers at the end of the autumn/beginning of the winter. The particular hardness of the soil and the necessity of maintaining the structure and drainage make this vineyard one of the most "difficult" to maintain. Particular attention is given to the turf (mowing and plowing).
Treatment of grape vines: All maintenance works of the grape vines are done by hand. The treatments used for the prevention of the diseases are reduced to a minimum and products suited for the biological viticulture are especially used. Disease prevention is made especially through a particular attention during the phases of trimming and maintaining the foliar apparatus.
Cultivation system: Guyot, from 4000 to 5000 plants/ha
Production: 800 ml/plant
WINE CELLAR:
Hand-picked grapes
Manual selection of the grape clusters and the grape berries
Fermentation for 15 days in small holders
Second fermentation in autoclave for approximately 45 days.
The Bendid Nadir white sparkling is aged for two months in bottles, and should be kept at temperatures of 10 degrees C, in a dry and dark place.
Wine tasting:
Wine Name: Bendis Nadir, white sparkling wine
Region/Appellation: Banat, Romania
Grape Variety: Pinot Noir
Vintage: 2013
Color and Appearance: straw-yellow colored, elegant mousse, smooth and persistent;
Nose/Aroma: wisteria with notes of peppermint that accentuate the herbaceous and aromatic character.
Mouth/Flavors: the palate has tension, fullness and pleasant taste. Tiny soft bubbles, persistent at the finish.
Alcohol: 12%
Acidity: 6.6 g/l
Sugar: 10.1 g/l
Aging in bottles: 2 months
To keep at 10°C, in a dry and dark place
Served at 10°C
Conclusions/Impressions/Food Pairing: raw fish, shrimps and seafood, either raw or cooked.