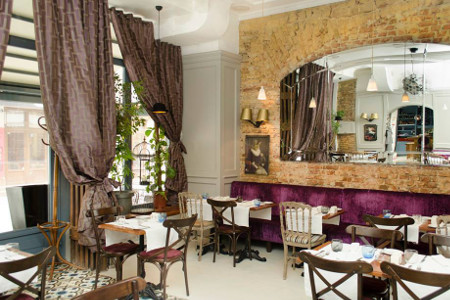 La Bonne Bouche. The Wine Bistro, Str. Franceză no. 2, Old City Centre Bucharest, www.labonnebouche.ro
Among the French bistrots in Bucharest, La Bonne Bouche has one of the best (if not the best) wine selections, especially as concerns the offer of imported wines, which include good and very good Italian and French wines, as well as New World wines. More importantly, you can find here exclusive imports on the local market, from "exclusivistic" wine houses, wines with a great deal of Parker points and sweeping the stakes at the relevant competitions, The good wine card easily explains owing to the fact that the restaurant has a common shareholding with the premium importer Vinimondo (vinimondo.ro). So that if you want a special wine for a special occasion or if you want to impress your partners at a business meeting, give it a go. The menu is well structured, by countries, regions and wineries, so that if you know your turf a bit, it is quite easy to go where you need to, even if you have to leaf through some 40 pages. In short, you will find premium wines which are harder to get in Romania, like Barolo Renato Rati, Barbaresco and Sperss from Angelo Gaja, Chablis 1st Cru and Grand Cru from Christian Moreau or Bodega Catena Zapata, Billecart Salmon and Pommery champagne, a.s.o., but also more popular and more accessible price tags (see below).
Indeed, the prices per-glass start from 15 lei for a prosecco Il Fresco Rose, Vila Sandi, rising to 17 lei for Malbec Alamos Catenna Wines, 22 de lei for a Greco di Tufo, Mastroberardino, but also soar to 50 lei, for instance, for a Châteauneuf du Pape (blended Grenache, Syrah and Mourvèdre), Domaine La Roquette and 64 lei for a Brunello di Montalcino (2007) from Angelo Gaja.
The per-bottle prices are equally variable, from 75 leu (wines from Abruzzo and Sicily), 150 lei (a Sancerre or a Pouilly Fume from Pascal Jolivet), to 450 lei and up to 1,350 lei for the wonderful Spers, Langhe Nebbiolo (from Nebiollo and Barbera, 2007) also from Gaja aso. And above. The selection of sparkling wines is also very generous, with most of the champagnes (plus other types of bubblies) at prices starting from 300 lei per bottle, for instance, a Brut Rose, Billecart Salmon, at 2,400 a bottle of Clos Saint Hilair (1996!) from the same house.
There is also a selection of Romanian wines (the restaurant has many foreign clients who want to taste local wines), not from many wineries, at prices ranging from 20 lei per glass – for instance, a White Iacol Davino (White Sauvignon and White Feteasca) and Rose (Sauvignon Blanc, White Feteasca and Black Feteasca), to 100 lei – Nedeea – Vinarte (blended Black Feteasca, Black of Dragasani and Novac), and 150 lei – a bottle of Merlot Prince Matei of 2009, aso.
La Bonne Bouche has appetizing companions for the wines: the menu is typical for French bistrots, without many creative artifices, but correct, with a lot of Mediterranean freshness, from beef tartare – 30 lei and snails with butter and herbs – 39 lei, to baked bio cockerel in red wine sauce with potatoes – 55 lei, to duck leg confit with cabbage – 42 lei, beefsteak, fresh grilled fish, soups, salads, pasta, risotto and deserts.
The restaurant is premium, but not rigid at all, with a pleasant, family atmosphere, which reminds of a warm family living room, with wine and book stores, lots of greenery and a few "precious" touches – the mauve velvet tapestries, the gauze curtains and the refined, vintage lighting appliances.
The events hosted here include the Aperitivo evenings (Wednesdays and Thursdays), which propose selections of per-glass wines from a certain region, a certain producer or several vintners, aso., at a promotional price, with a quite generous, assorted on-the-house buffet. Bordeaux Style and Food, Spanish flavours, Campania and the Mastroberardino Wines are a few examples. Periodically, La Bonne Bouche also hosts a special guest from the world of wine, from big world producers, who hosts presentations and wine samplings.
Adriana Popescu, Citybest.ro