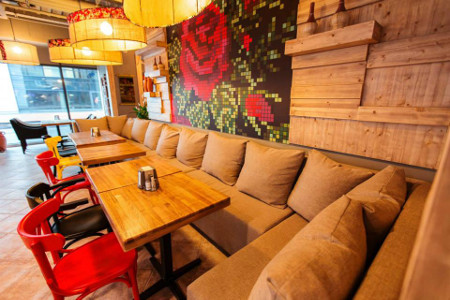 Moldivan food at La Plăcinte (Pies') Bd. Dacia no.20 and Afi Park II
Since we were just talking about the cuisine of our Bessarabian neighbors, La Placinte is a Bessarabian restaurant chain which enjoys quite a success in Romania given its quick expansion over 2 years, with 10 places and which we think will also please foreign tourists. The restaurants stand out first due to the decor, inspired from the Moldovan traditions, with slightly stylized folkloric elements, from napkin and woven cloths, to wine pitchers and plates on the walls, and lamps covered in cloth, a.s.o. I will dwell on the restaurants in Dacia Boulevard, the oldest in Bucharest, and the most recent one, at Afi Park II, a very well placed spot for a bite after a shopping session. The menu is traditionally Moldovan/Romanian, with several Russian inspired dishes, so that we recommend it for lunch and for a light dinner, if you are in the mall area. It is very good also for family and group reunions, with areas of comfortable sofas. In the pie chapter, there are three variants – classical, twisted, or lordly, with different fillings: cheese and green herbs, potatoes, cabbage, a.s.o., twisted pies, with pork and sour cream or with chicken and mushrooms, ans sweet pies with apple, sour cherries, pumpkin. You can also order sour soups – vegetables, red pork and soleanka bortsch, grills, plemeni, stews, salads and desserts. The wines come exclusively from Moldova wineries, bottled and per glass. The prices are decent: he red bortsch with pork and soleanka is 13 lei, soleanka, the typically Russian soup of beef, salami, olives and sour cream is 15 lei, a pie varies between 14 and 17 lei, two Moldovan mititei come for 12 lei, and a bottle of wine averages 45 lei (there are cheaper and more expensive ones).
The atmosphere is pleasant, with all kinds of Moldovan music, so that you can spend a couple of hours with your family or friends. The restaurants are spacious and aired, in the one on Dacia smoking is only allowed on the terrace, and the one at AFI mall has special areas for smokers and non-smokers.
Adriana Popescu, Citybest.ro