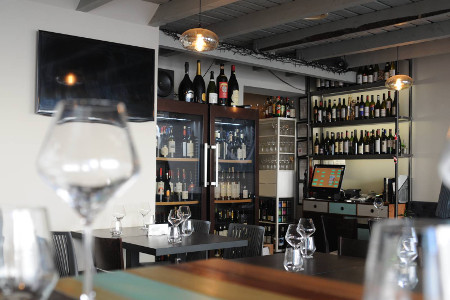 Tasting Room by Ethic Wine, Puțul lui Zamfir no. 64 (Floreasca area), www.tastingroom.ro
To many wine lovers in Bucharest, Tasting Room no longer needs an introduction; opened only one year ago, the place, the first gastro wine bar in the country, - has become one of the haunts of wine lovers, as well as a favorite spot for the wineries, which are making presentations, launches, wine samplings here from time to time. Let us tell you why. The small Floreasca restaurant is backed by the long-standing experience of the Ethnic Wine wine shop, with which it communicates directly, so that all labels in the shop is also available in the restaurant, against a cork tax of 20 lei. Bogdan Sandu, the owner, guarantees that despite the cork tax, the prices are very affordable, compared to other Bucharest restaurants, which is true.
The Romanian wine variety is great (more than 800 labels), alongside perhaps the widest selection of imported wines (in point of producing countries) from Italy, France, Spain, Portugal, to Moldova and Bulgaria, from New World countries, from Argentina and Chile to South Africa and Australia, many being offered by the glass. You will also find limited edition wines, excellent verticals, special, rare series or collections from Romanian wineries,as well as other drinks, from cognacs and armagnacs, palinka and grappa, rhum and tequila, to whiskey and bourbon, a.s.o.
Here are a few prices which will help you get an idea: a bottle of Red Dragaica (blended Cabernet Sauvignon, Merlot, Shiraz, Pinot Noir) from the Oprisor Winery costs 52 lei, Anima, Aurelia Vișinescu (Merlot and Pinot Noir), 75 lei, as does the Novac from Știrbey, Davino Purpura Valahica 2006 (Black Fetească) 92 lei, and Davino Flamoyant 2007 (Cabernet Sauvignon, Merlot, Black Feteasca) 190 lei. As for the imports, let us mention Greco di Tufo Mastroberardino 68 lei, Quiot Chateauneuf du Pape (Shiraz) 180 lei, but also Chilean wines Secret Viu Manent, from varieties like Carmenere, Syrah or Sauvingnon Blanc (62 de lei each), to Penfolds Grange Shiraz (Australia), 1,700 lei. The sparkling wines chapter is also generous, with champagnes Billecart Salmon, from 220 lei, Veuve Cliquot 260 lei, Dom Perignon 890 lei, as well as creamy, cava prosecco, a.o.
The food list is brief, a Euro-Asian fusion, with meat, fish and seafood dishes, pasta, a few salads and starters. The boiled mutton stewed in the oven for a couple of hours is mouth-watering and he home-baked salmon and lemongrass, beef and pork or shrimp dumplings, as well as the veal steak, one of the best in town, are the local specialties. You can also order shrimp and pasta curry, cheese and charcuterie plates. A helping of five dumplings costs 33 le, the beefsteak with salads 48 lei (250 g), the salmon tartare 39 lei, and the truffle tagliatellele 38 lei.
The Facebook page of the restaurant should also be followed, because it announces periodical events, centered around wine: themed samplings around a variety, a producer, such as New Greek Wine, Choco Wine (wines and chocolate), German Rieslings samplings, a.o.
Adriana Popescu, Citybest.ro