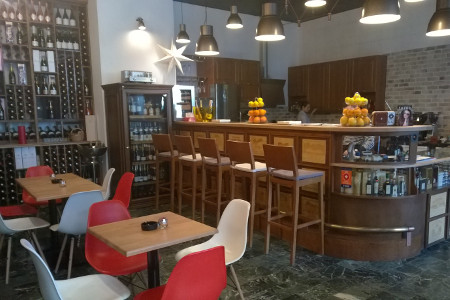 The Wine Bistro by Vinexpert, Calea Victoriei no. 155, www.vinexpert.ro
The new wine bistro under the Vinexpert umbrella (the oldest chain of wine shops in Romania) is the most interesting newcomer in 2015, a restaurant literally "decked" with thousands of bottled of wine, nicely stored in windows and on shelves. The Wine Bistro boasts no less than 3,500 labels of spirits, mostly wines and sparkling wines, sparkling cocktails, regined spirits, single origin coffees, blended coffees and spirited coffees, cigars, Riedel collections, as well as gourmet and premium gifts.
Something we would love to see more often in our restaurants and for which we congratulate the Vinexpert owner, Florin Bejan, as well as its close collaborator, Dan Silciu Boerescu, ala Cookarescu, is the great part of wine and food pairing, which stands out in several ways. On the one hand, we talk about the existence of at least two or three wine-per-glass recommendations in the food menu, to go with each dish. So, for instance, there are around 60 wines served by the glass, with prices from 15 lei. The food menu is not large, but sufficient, from plateaus with appetizers, cheeses, charcuterie, bruschettes and salads, to chicken, turkey, pork and fish dishes, even cream soups and deserts.
For instance, the Purple Red plates, for wines, with boar salami, bruschette of venison terrine, Camambert salami, Castelvetrono olives and cherry tomatoes (for 2 persons) at 25 lei, include the following recommended wines: Iacob Davino (Cabernet Sauvignon and Black Fetească) 15 lei, but also Edmond de Rothschild Aguaribay (Malbec) and Rosso di Montalcino, Castiglion del Bosco – both 20 lei. For the turkey pastry roulade with green beans sautéed in butter and nutmeg, the wine recommendations are Guigal Cotes du Rhone Blanc or Cremant Prima Perla Brut Rose – both 20 lei, and the tuns with fennel and orange salas goes with a recommendation of Tamari Reserva Torontes or Tarapaca Grand Reserva (Sauvignon Blanc) both 15 lei.
As for the food & pairing side, a house signature are the live cooking events of the series Taste Continents (in an open kitchen), together with Cookarescu, coming with a themed menu with several specific dishes to a country or region, or planned for a certain holiday, accompanied by assorted wines. "Australia," with Australian wines and specific food recipes, the "Valendine's Day Myth" revisited in a sentimental-gourmet key, "Deagobete with recipes and songs of yore," or dinner with exotic dishes from alligator tail, kangaroo leg and zebra filet, going with assorted wines, are a few examples. Moreover, the restaurant will venue the vents featuring presentations of Romanian wines from the cycle Gallery of Romanian Wines (which started, like the Taste Continents, at the Dorobanti-based Vinexpert), as well as the launch of a wine education programme Wine Academy, by Vinexpert.
The atmosphere at The Wine Bistro is cool, with modern, colorful and aired settings, suitable for any time of day, both for large groups and for private events, as well as for lunches and quiet dinners for two.
Adriana Popescu, Citybest.ro