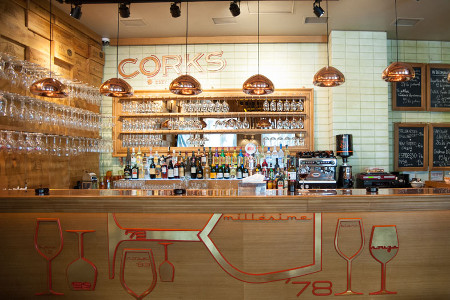 Corks Cozy Bar, Băcani Street no.1, Old City Center, www.corks.ro
Corks is one of the coziest (indeed) wine bars in Bucharest, a design space (conceived by architect Mihai Popescu, the artisan of the premium Fratelli clubs), a successful mix of natural and "precious" elements. The copper bar, decorated with many wine casks, antique-looking stone and hand-made ceramics, an entire wall of wine boxes, the chandelier of wood pieces carved in the shape of bottles and the odd pieces of furniture of various shapes and colors round off the Corks visual. The hall, decorated with wine labels, leads towards the vinotheque-separe in the cellar, a true library of wines and champagnes, while the terrace with antique-looking furniture of white wrought iron, many flower pots and pillows with floral prints is a must-see in the summer, especially if you catch a themed event here (see below), which will lead you straight into the heart of St.Tropez.
Returning to our subject, the wine selection is premium and super-premium, with several hundred labels (we didn't count them, but the menu here, is also 40-page thick), grouped by countries and regions : fresh and reinvigorating wines or precious vintage wines, medaled millesimes, with lots of Parker points, "star-wines", labels for connoisseurs and aficionados, but also popular wines from France, Italy and Spain, to Greece and Lebanon and New World countries – Argentina, Chile, the U.S., Australia, New Zealand and South Africa. More than half are also available by the glass, with prices from 12 lei, such as: Davino Făurar White of Ceptura (blended Sauvignon Blanc, White Fetească and Riesling Italico), 15 lei The Special Reserve Tohani Estate Pinot Noir, or 21 lei - Les Jollies Filles by Barbara Reihl (blended Grenache, Cinsault and Syrah), respectively, 75, 90, 105, 135 lei / bottle. For instance, Chateau La Verriere Bordeaux (Cabernet Sauvignon and Merlot) costs 90 lei, Barolo Antario (Nebiolo) 140 lei, Chateau de Haut Serre (Malbec & Merlot) 92 Wine Spectator points - 165 lei, La Fiole Chateauneuf du Pape (Grenache, Syrah Mourvedre plus another 13 wine varieties) - 210 lei or Domaine Barville Chateauneuf du Pape (Grenache, Syrah and Mourvedre), Best Oscar Wines winner in 2014 - 255 lei, a.o. In the chapter of less known wines on the local market, you find Alpha Estate Greek wines, as well as various Lebanese Chateau Ksara blends.
Corks has also diversified its food menu, from charcuterie and cheeses plateaus to salads, spring rolls, shrimps in rose sauce, fish & chips, pork ribs and delicious desserts. The spring rolls cost 9 lei, a plate of charcuteries costs 35 lei, a serving of pork ribs in a sweet spicy crust, French fries and salads, 29 lei, the shrimps with rose wine sauce, 34 lei, and the Corks Macaron chocolate and Porto wine cake, with the accompanying glass of Port, 29 lei.
It is worth knowing that every day, between 16.00 and 19.00 Corks has Happy Hours, with discounts of 25% for all the wines by the glass, sangria, cocktails and other beverages.
In the events chapter, Ruxandra Chendi, the owner of Corks gets top grades, and let us briefly mention why: I would remind "Holiday in Saint Tropez," a summer series with wines from Provence, shells and shrimps and all the holiday décor – sand on the floor, cozy lounge chairs, bathing suits hanging on lines, or the "Wine Oscars," an event suring which the customers have one month to choose the wine which deserves their Oscar from the best-sold wines of the preceding year (nominated by categories), in a setting with all the Oscars paraphernalia, from a red carpet, to the menu inspired from the one reserved for the Hollywood stars. The hospitality and the service are up to scratch, the waiters know what and how to recommend and they offer useful information about the wines.
Adriana Popescu, Citybest.ro