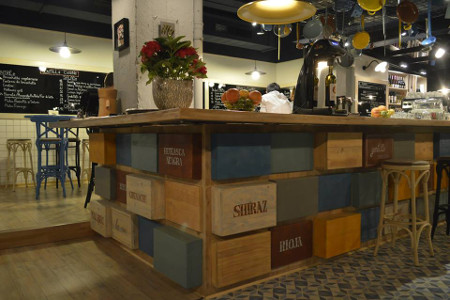 Alouette Bibescu Vodă Street no.19, behind the Horoscop hotel, in the Unirii area, www.alouette.ro
Alouette is a French-Mediterranean brasserie which opened last autumn, with a nice surprise regarding the list of wines served by the glass, at more than affordable prices for its area, starting from 8 lei per glass, and 45 let per bottle. The wine menu is not very long, compared to the previously mentioned wine places, but it is pretty varied, arranged by types, with labels from the (majority) Romanian wineries, from Moldova, France, Italy, Spain, Chile, New Zealand.
To give you an idea, a glass of Fumee Blanc (blended Sauvignon Blanc, Riesling, Pinot Grigio) Budureasca costs 8 lei, a bottle of the same wine is 40 lei, a bottle of Caloian Rose (blended Cabernet Sauvignon & Shiraz) from the Oprișor Winery is 50 lei, a Chardonnay Sole from the Recaș Winery is 92 lei, and a Black Fetească between 58 and 175 lei / bottle.
As I said, theire are also many imported labeles, to give you a good choice, from Carmenere Casillero del Diablo, Concha y Toro 65 lei, to Brunello di Montalcino Banfi 300 lei și and whites from Sauvignon Blanc Sâmburești Estates 45 lei, to Sauvignon Blanc Villa Maria Private Bin 105 lei and Chardonnay Chablis Luis Jadot 300 lei.
The food is French-Mediterranean with a few Asian accents : around 10 fish and seafood dishes, 15 meat dishes, from turkey with Provence herbs and puree potatoes, beefsteak with Camembert and valerian, but also pork wok and a series of appetizers going well with wine – fromages, antipasti, shrimp and squid tempura mix, or antipasto pesce e frutti di mare (with marinated sardines, shrimp, squid, mussels and salads), several pasta and pizza dishes, soups, a.s.o. The salmon tartar costs 28 lei. A seafood plate is 36 lei, a plate of French cheeses is 42 lei, and the beefsteak between 42 and 59 lei (depending on the sauce and garnish).
You will have a good time here, in the bistro environment, an open space with romantic-vintage and modern features, both chic and fun, at the same time with wine boxes on the bar, along with pans, graters and huge ladles hanging over it, with an improvised little window on a wall, with flower pots, colored bottles, bowls of croissants and glass walls. In the cellar, there is another generous space for various events, even for bigger ones, of up to 100 persons.
Adriana Popescu, Citybest.ro