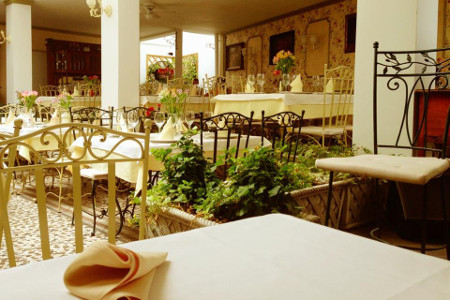 Zexe Zahana – rare, forgotten and reinterpreted foods Icoanei Street, no. 80
Zexe Zahana is that type of place belonging to the times when Bucharest was called the Little Paris of the East, projecting you into the slightly outdated, yet charming atmosphere of those tumes. The setting, between aristocratic mansion and classical French bistro, with a flowery wallpapered terrace, wrought iron chairs and plenty of greenery is most appropriate for the menu thought up by the owners. You will find here a Romanian – urban, cuisine, with "forgotten" dishes, reconstructions from the gastronomy of the late 19th century, such as crayfish, capon (turkey) or Mangalitsa porc (with a higher percentage of fat, but good fat, that is, unsaturated fatty acids), but also "emerging Romanian dishes," that is, contemporary reinterpretations of traditional recipes.
So that, among great meat cuts, which are not easily found on other Romanian restaurants, such as young ox balls or veal brains in parchment, on the one hand, or meatballs from mussels' meat with dill sauce and baked octopus with celery puree, you will find more refined dishes, such as duck terrine with Port and chives jelly; another rarity, the turkey with three stuffings is a house specialty and you can choose between: turkey with red cabbage, dried plums, honey, smoked bacon and Muscat wine; turkey with figs, polenta with raisins and cinnamon, or, more sophisticated, - turkey with brioches, foie gras and a garnish of oranges, candied shallots, honey, butter and orange juice.
The local grills are also a staple, from pastrami and lamb sirloin, to mititei and sausages, Dobrogea-stype carp in brine, various types of ciorba (of goatling, giblets and oxtail), as well as hors d'oeuvres like mushroom and sturgeon zacusca, pike roe, aristoriatic greaves and skoked meats ; hams, ribs, boiled or dried entrecotes, bacon boiled in cabbage brine, spicy sausages, and others, made in house.
The sweets, baked by a hand trained in Paris, nicely round off the menu, so that you should feel peckish even if you have just completed your meal, especially is they are accompanied by one of those rare coffees, such as those prepared from the recipes of Avedis Carabelaian, the most respected coffee brewer in the Bucharest of yore. The wine list includes mostly local varieties - Novac, Băbească, Fetească, Tămâioasă, Busuioacă of Bohotin (even also Pelin) and several international varieties, produced by the Romanian wineries, as well as sparkling wines.
The prices are a bit over the average of the similar restaurants in Romania, but the food is good and worth every cent; for instance, a ciorba costs between 16 and 24 lei, the lamb pastrami is 18 lei / 100 g, a Mangalița pork steak 22 lei / 100 g, mussels meat balls 24 lei/ dish, the various types of zacusca and the fish roe, between 14 and 24 lei, and a bottle of better Romanian wine, starting from 85 lei.
It might be interesting to know that the restaurant was designated as one of the best Romanian restaurants in several classifications of Romanian cuisine restaurants.
Adriana Popescu, Citybest.ro