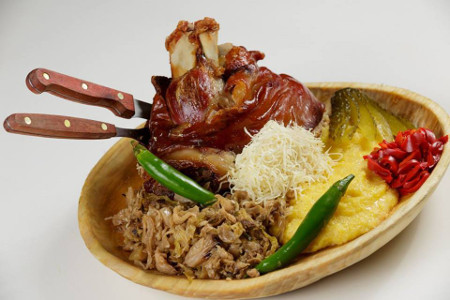 Caru' cu Bere – The Beer Waggon – "Between the rush and history," an emblematic Romanian restaurant Stavropoleos Street no. 5, Old City Centre
Houses in a beautiful building – a historic monument, and with a menu which has perpetuated the most popular local dishes, Caru' cu Bere, (The Beer Waggon) a typical Central-European brewery, is probably the Romanian restaurant most visited by foreign tourists.
The impressive building, dating from 1879, was restored by the present owners of the restaurant, while preserving the architecture of the 19th century, with painted walls and a wooden staircase and a typically Romanian atmosphere, with folk music, romances, violin concerts and traditional dances.
The house specialities include pork knockle with sour cabbage and polenta, horseradish and hot pepper (78 lei), "the aristocrat's dish" – a lamb stew with polenta (34 lei), or pork garni, roasted with smoked sausages, ham, polenta and pickled cabbage (39 lei). The traditional tripe soup is also a staple, as is the beans soup with smoked meat, cooked in a loaf of bread )12.5 and respectively, 11 lei); other favorites are traditional appetizers from elemea cheese to fish, mutton or pork sausages, greaves or smoked rind, and all kinds of popular dishes – tochitura, beans stew, carp in brine sauce, mititei, home-baked bread and the most popular desserts: papanasi, crepes with jam and apple strudel. The tripe soup is above the Bucharest average and the beans soup in a bread loaf is also yummy, the mititei are juicy and tasty. The list of beverages comes with the nice home-brewed beer (pils) (drom 7 lei /small mug of 330 ml), and includes many wines from Romanian wineries, from all the regions of the country, slightly more pricey than the city average, from 85 lei/bottle for an ok wine. The souvenir shop of the restaurant can also be interesting: cups, teapots, ols cutlery, T-shirts, key-holders, a.so.o. The place can successfully accomodate alrge tables and extensive private events.
Adriana Popescu, Citybest.ro