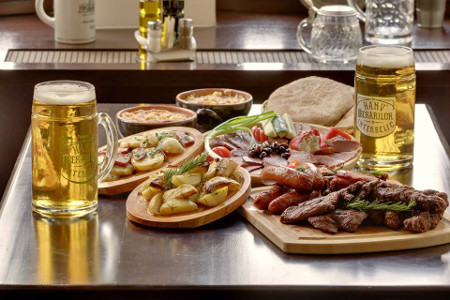 Hanu' Berarilor Interbelic (The Inter-War Period Brewers Inn) - nice gardens, with vintage music Poenaru Bordea Street no. 2 and Bd. Pache Protopopescu no. 51
Belonging to the same network of restaurants as the one described above (City Grill, the largest Romanian cuisine restaurant chain) are another two restaurants named Hanu' Berarilor (The Brewers' Inn) which are also housed in two "picturesque" historical monument buildings. Since the menus are similar, we will dwell on the second one, from the building known as Casa Oprea Soare, both owing to the fact that it is more central and to the beautiful decor, with a generous space, many salons, a cellar and a leafy terrace with lots of trees and greenery. From outside, you smell the aroma or meats grilled in the yard, while the old songs from the interwar Bucharest gently tickle your ears.
You can spend hours on end there, with your friends, over one or more bottles of wine and choose traditional dishes from the food menu, which is quite similar to the one at Caru cu Bere (Beer Waggon). We might say that we are not talking of menus for people looking for gastronomic perfection, but the dishes are correct and in generous servings, mostly popular Romanian food, beerhouse specialities and several more "internationalized" varieties, from plates of traditional appetizers, to tripe, cockerel soups, as well as beans soups with smiked meat, to tochituri, pastrami, sarmale, stuffed peppers, steaks, mititei, sausages, Balkan salads and deserts.
Like in all the City Grill group restaurants, the atmosphere and marketing sell well; worth mentioning perhaps are the typically local names of the dishes, such as :The bortsch of the pickpocket," made of cockerel, with homemade noodles (12 lei), The Plate of the Vrancea Shepherd, with cheeses, pastrami and Plescoi sausages and babic (45 lei/450 g), The Fisherman's carp, with garlic and polenta, at 35 lei, or the Old Lady's Papanasi, at 15.5 lei, as well as the offers of lunch menus (22.4 lei) or those "for the third youth" or for students, at 10 lei. Beer prices are slightly above the average ones in a beerhouse and we might have wished for a greater variety. There are plenty of wines to choose from, especially Romanian ones. The Brewers' Inn is the place with a party atmosphere, mostly on the terrace, in the summer, fit for family or friends' reunions or for large events. For a party with friends, you can choose the cellar, a more rustic space, with walls covered in wood and beam ceilings, with decorative plates and chandeliers. If you visit Bucharest in the autumn, during the wine harvest, the orangerie of the inn (a covered terrace) is waiting for you for a glass of must throughout September.
Adriana Popescu, Citybest.ro