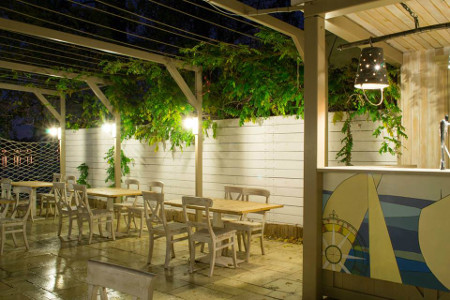 Cherhanaua Ancora (The Anchor Fishery) – one of the best fish restaurants in Bucharest Soseaua Nordului no. 7-9, Herăstrău area
We have also included a fish restaurant among the Romanian restaurants because you will find here a series yummy traditional dishes, from Danube carp bortsch and carp in brine sauce, to Black Sea snails (rapane), served either pane or on the spit.
The fishery, opened on the shore of the Herastrau lake, « like an anchor rising from the water » is the younger sister of another traditional restaurant on the Romanian Black Sea coast, Popasul Pescarului (The Fisherman's Hangout) in Olimp, known by all the fish lovers. Although contemporary in design, the décor of the restaurant hints to the fisheries of yore, with lots of natural light, and very picturesque, owing to the beige wood furniture, the lighting appliances covered in straw, wood panels and many seafront and rustic features – drafts of ships, ship models painted with fish, bull's eyes, paddles, a.s.o. The restaurant presents "its trammel filled with fosh and seafood from the Pontus Euxinus, the Mediterranean or the Big Ocean, for the delight of all tastes," – from Black Sea anchovies, guvid, grey mullet, turbot and shark, to river fish like the Danube carp, perch or catfish, cooked in various recipes, - in brine, on the spit or in the oven, with different garnishes and the well-known house sauce, called genicid, based on hot peppers. The prices are above the city average, quite high. For instance, the traditional carp fisherman's bortsch is 23 lei, the danbube carp in brine is 43 lei, the roasted Black Sea giuvid is 29 lei, the roasted catfish or the catfish on the spit is 39 lei. The crustaceans and the shellfish are also well represented – from pane rapane (Black Sea snails) – 35 lei, to mussles with white wine sauce – 45 lei/500 g. You can also find a series of appetizers: fish roe salads, sturgeon zacusca, fish meatballs, as well as large mixed plates of marinated anchovies, sprat, pike roe salad with grape kernel oil, homemake zacusca of sturgeon, tzatziki – 76 lei / 500 g. There is also a separate Mediterranean menu with lots of seafood – chrimps, squid, cuttlefish, prepared with lots of imagination, several refined appetizers, sucj as carpaccio of wild tuna and wild salmon, tuna tartar with avocado and ciboulette, pasta and risotto, and for a greater variety, there is also a section of meat dishes (duck, turkey, pork and beef). The atmosphere on the terrace is very nice in the summer, with a lot of fresh air and greenery, fit for a long dinner and a glass of wine.
Adriana Popescu, Citybest.ro