Winews / Romanian Wines in the Eyes of a Master of Wine
22nd of December 2015
If one asks a Romanian's opinion on Romanian wines, he or she will say that they are one of the best. But if that isn't a reliably enough source, just ask Jancis Robinson and her team. They will say the same.

On Jancis Robinson's website, Romania is in top 10 best wine countries and this is what she had to say about the country on her last visit: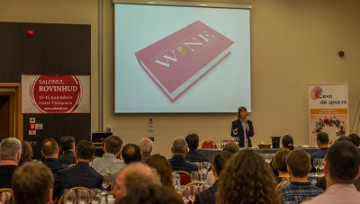 "Wine and Romania are virtually synonymous. The country has more land under vine than Australia, South Africa or Chile, according to OIV figures, more than any other eastern European country, considerably more than its eastern neighbour Moldavia and almost three times as much as the third most important wine producer of the old Soviet bloc Bulgaria. Whereas wine production elsewhere was very much in state hands under the Soviet regime, many Romanians continued, and continue, to grow a few vines and make a bit of wine for domestic consumption. Indeed, the domestic market is a rather confused mix of home-made and increasingly sophisticated branded products."

MW Jancis Robinson her self visited Romanian wine fair, ROvinHud, last year and. But in 2015 it was MW Julia Harding's turn. Julia is Jancis's full-time assistant and crucial to maintaining the high editorial standards of the site. See here for full details of her glorious career. As a top pass in the punishing Master of Wine exams (she took them in 2003 and passed first time with flying colours, and gained a distinction for her dissertation in 2004), she is particularly up to speed on oenological and viticultural matters and is also prepared to tackle the complexities of wine legislation head on. In 2009 she won a Special Award in the Louis Roederer International Wine Writers' Awards, she was Portuguese Wine Writer of the Year in 2012 and is co-author, with José Vouillamoz and Jancis, of the multi award-winning Wine Grapes - a complete guide to 1,368 grape varieties including their origins and flavours. She is much in demand as a mentor for Master of Wine students.

Julia published the tasting notes on jancisrobinson.com of the Romanian wines that she tasted at the exhibition in Timisoara. From the 88 wines tasted, six of them got 17 points out of 20, which looks promising.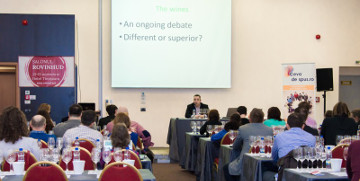 Julia writes: "This collection of tasting notes, like all the others listed in this guide, is a team effort, a gathering together of reviews from occasions many and various over the last few months. Observant readers will spot a large number of reviews of Romanian wines. These were almost all collected during the second ROvinHUd wine fair last month in Timișoara. For more on this excellent initiative, see Jancis's description of its maiden voyage in Benevolence in Transylvania. Some of my notes come from the main fair and its masterclasses, which were open to the public, some from visits to nearby producers. They range from the very small (Petro Vaselo) to the frankly enormous (Cramele Recaș), the latter responsible for more than 50% of all Romanian exports.

The wines are grouped by country where there were enough notes to warrant a separate group, and in descending score order within those groups. For the wines in the 'assorted' groups, you may need to click on the individual wine name to see the country of origin if the more specific region is not familiar to you.





ROMANIA WHITES AND ROSÉS
ROMANIA REDS
There is no doubt that Romanian wines will keep evolving every year, every harvest, with every wine sip we take. But don't believe us when we are telling you they are good, try them for yourself.



Photos source: rovinhud.net