Domeniile Sahateni by Aurelia Visinescu
Domeniile Săhăteni (eng: Săhăteni Estates) winery was created in 2003 by Aurelia Vişinescu and Steve Cacenco.
Located in Săhăteni, Năeni and Fințești villages, in the Dealu Mare area, the 76 ha of vineyards are close to the winery, on the hills surrounding the Carpathian Mountains, lying from the foot of the hills where the 'whites' and Pinot Noir are growing, to the top, where the late-ripening reds are cultivated.
So far, a total of 5 million euro was invested at Sahateni, from both European and own funds. Today, the Sahateni Estates gathers its own plantations in the Dealu Mare vineyard, as well as a top-of-the-art winery for processing, maturing and bottling.
The turnover exceeded 1.2 million euro in 2013.
Aurelia Vișinescu is the best-known Romanian woman oenologist. With an old passion for nature and initially drawn to growing flowers, Aurelia has followed her passion and created her own winery and vineyard in 2003. Every time she is asked what it means to be a successful woman in a man-dominated field, Aurelia has one answer: "In a world governed by the rules of professionalism, there are no women or men, there are only experts!".
The grapes used at Domeniile Săhăteni are traditional Romanian grape varieties such as Fetească Albă (White Maiden), Tămâioasă Românească, Fetească Neagră (Black Maiden), and international ones like Sauvignon Blanc, Chardonnay, Pinot Grigio, Merlot, Syrah, Pinot Noir and Cabernet Sauvignon.
Aurelia Vișinescu's wine brands are: Nomad, Signum, Arbora, Artisan, Karakter and Anima and they impress wine tasters and wine lovers all over the world.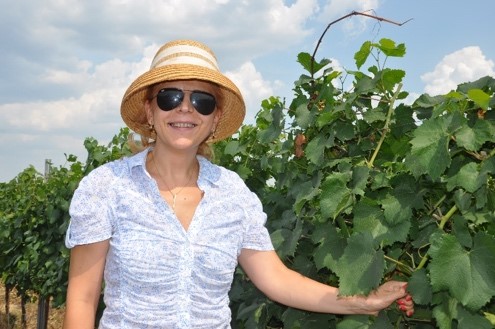 Aurelia Vișinescu